and
'Mind-Reading' Scientists Reconstruct Human Faces From Brain Scans
From:
Posted:
Click on image for full article and video

Facial images shown to men and women while they were undergoing fMRI scans (above), and the reconstructed images based off of that MRI data (below).
Scientists have now used brain scanners to hack into our thoughts like never before.
After scanning the brains of men and women who were looking at photos of different faces, researchers at Yale University have found a way to reconstruct the image of those faces based solely on patterns of neural activity in the brain scans. Mind. Blown.
"It is a form of mind reading," study co-author Dr. Marvin Chun, a professor of psychology, cognitive science and neurobiology at Yale University, said in a written statement.
In the study, the researchers showed six students and staff members at the university 300 different faces of various ethnicities and facial expressions. While the study subjects were looking at the photos of the faces, the researchers scanned their brains. Using data from those brain scans, the researchers built a computer program, or a statistical library of sorts, that uses mathematical reasoning in matching certain neural activity of the observer with certain facial features of the photo being observed.
That statistical library is the secret behind how the researchers hacked into the subjects' minds. After building that library, the researchers showed those same six people a new set of faces while they underwent scans again. This time, the researchers used the statistical library to look for clues in how the mind was processing the facial images.
What did they find? The library allowed them to visually reconstruct the faces based on only the information provided in the observers' brain scans.
and
From:
New maps may hold clues to brain mysteries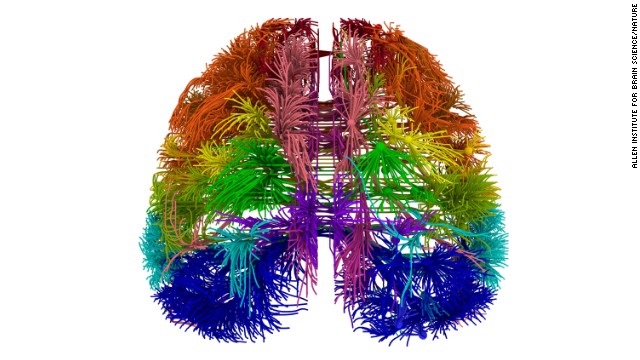 updated 6:15 PM EDT, Wed April 2, 2014
Click on image for article
CNN
– The many connections between different parts of the brain have no street signs or trail markers.
But in order to better explore this complicated organ that enables us to be conscious, thinking, alert beings, scientists need maps. Big maps.
Two studies released Wednesday in the journal Nature showcase brain maps that could have implications for understanding both healthy and impaired brains.
One study reveals the most complete map ever of how parts of the brain are connected in a mouse. The other illuminates the developing human brain in terms of genetic expression — specifically, which genes are responsible for generating different types of neurons, and how brain circuits are formed.
OLD BRAIN MAPS